Good news, musicians! When it comes to finding a free WordPress theme for your website, you're in luck. This article will walk you through the best free WordPress themes for musicians that you can use to build a beautiful website. And don't worry: we've got something for everyone – from solo artists to bands, classical musicians, etc.
Best Free WordPress Theme for Musicians
Euphony WordPress Theme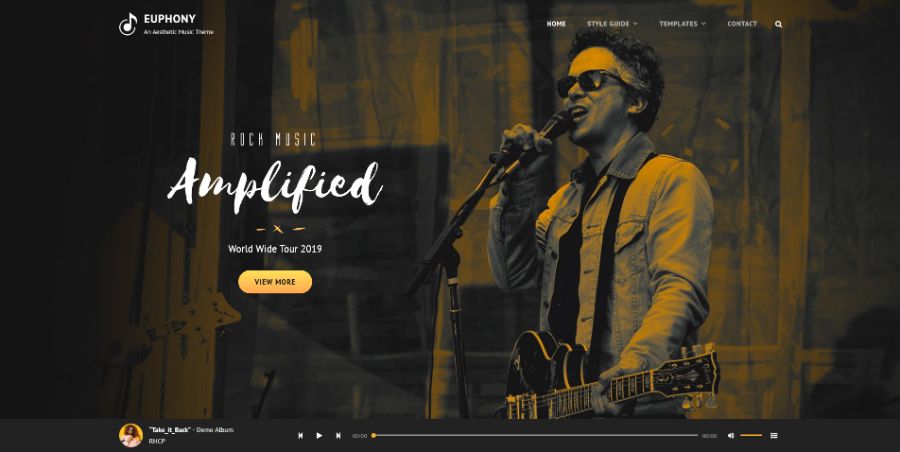 Euphony is the best free WordPress Theme for musicians who want to create an amazing website without spending much money on it. It's easy to set up, beautifully designed, and packed with tons of useful features like Image Sliders, Hero Content, Sticky Playlists, Portfolio Pages, Testimonials, and more, etc… Plus, this theme has been crafted keeping the needs of musicians in mind and the developers have tried their best to make it as user-friendly as possible.
Music Lite WordPress Theme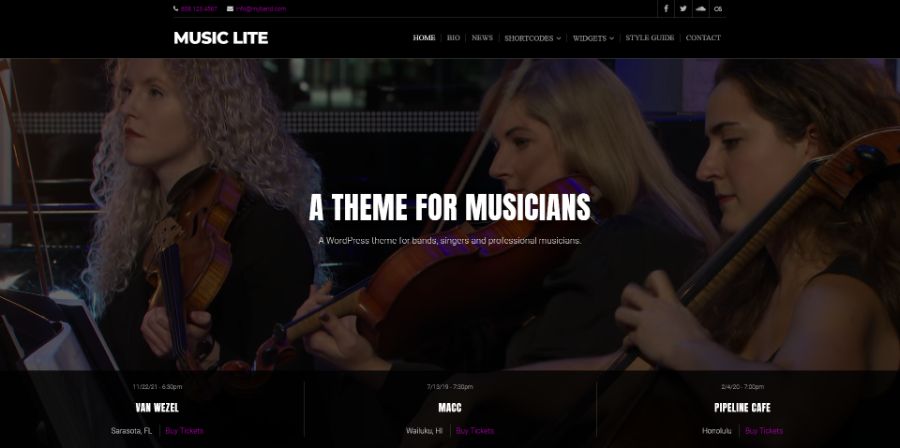 Music Lite is the perfect WordPress theme for any type or genre of music. It has an easy-to-use customizer interface that enables you to set up pages with custom content sections like tour dates & upcoming shows, band member's profiles & discographies, etc. Also, it's completely optimized for the new Gutenberg editor in WordPress 5.0 so you can easily create beautiful posts about your gigs and events without having to learn how to code.
Rock Band WordPress Theme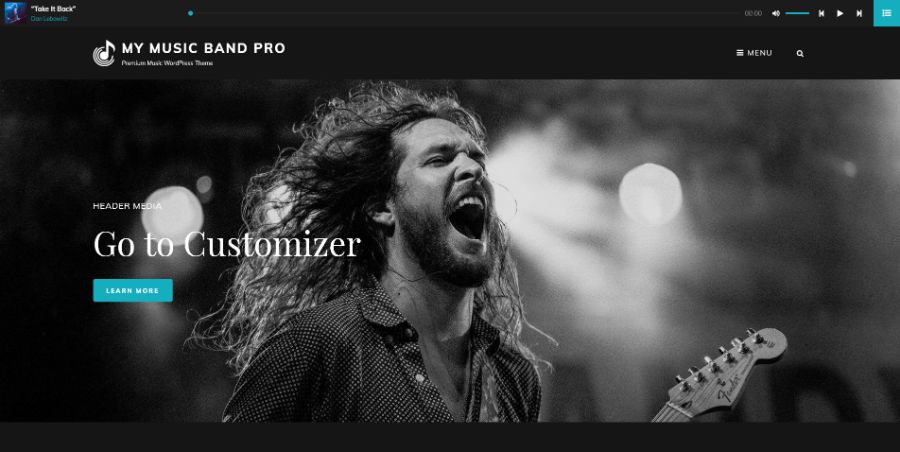 Rock Band is an excellent choice for any rock or metal band because of its simple design, dark mode layout, built-in tour calendar, events listing page, featured audio widget with autoplay option, along with several other features which are specifically designed for heavy metal band websites.
Musicsong WordPress Theme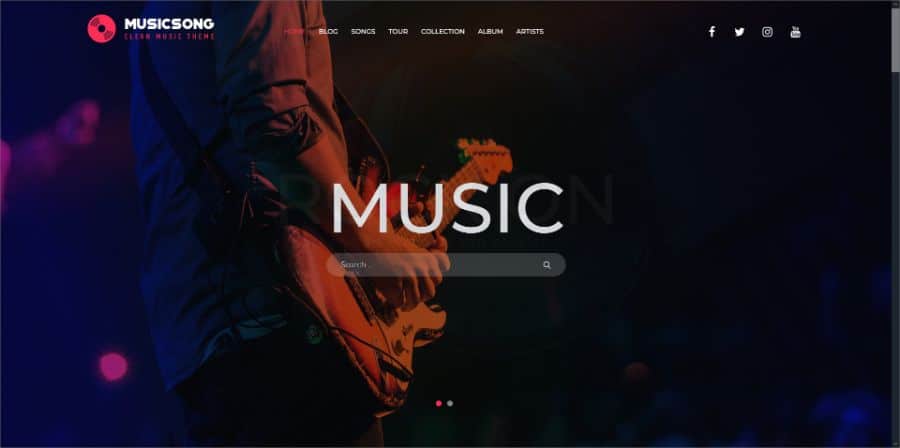 Musicsong is an easy-to-use WordPress theme that gives you the freedom of creating a professional-looking music website without any coding skills. It has all the features needed by musicians including an Events calendar, Social media integration (Facebook & Twitter), Google Maps integration with directions, Band member profile pages with photos and videos, and an audio player, etc…
Abletone WordPress Theme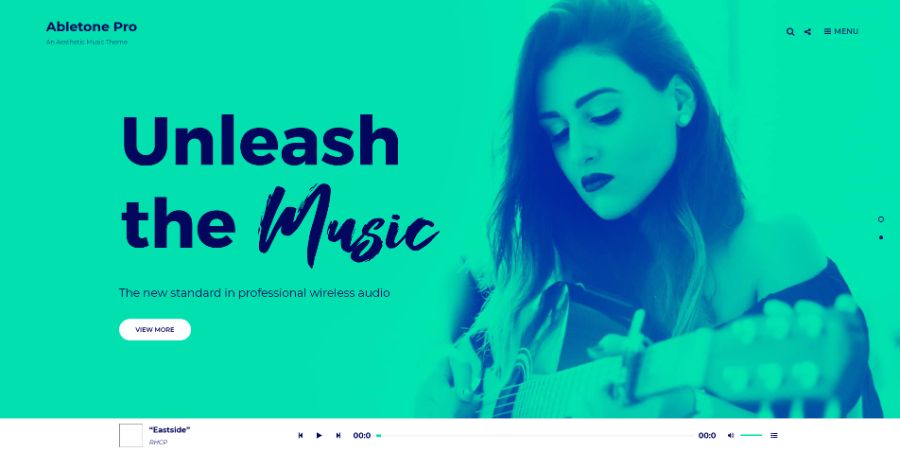 The Abletone WordPress Theme makes it easy to create your own professional-looking music website in less than 10 minutes. With this free WordPress theme, you get all the necessary sections any good site needs like a Featured Slider, Featured Content, Hero Content, Portfolio, Testimonials, etc. Plus you don't have to worry about uploading custom content right away because everything is included when you download this themes demo page.
Zubin Music WordPress Theme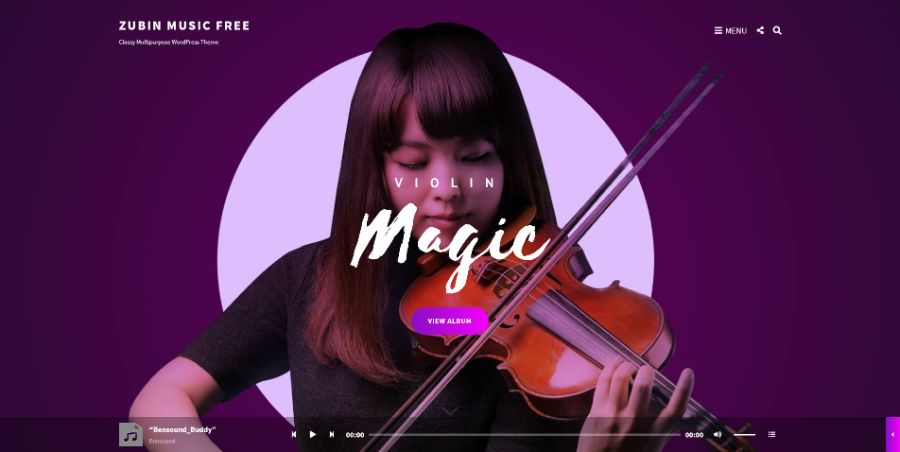 Using the Zubin Music theme will save you time because it has all of the features you need built right in, so there's no need for additional plugins or add-ons. This WordPress theme includes an Events Calendar with WooCommerce integration, custom page templates, testimonials & portfolio sections – all at no cost. Best of all, this music WordPress theme is easy to use by musicians like yourself who are looking to create their own websites quickly without having technical knowledge about web development.
MusicFocus WordPress Theme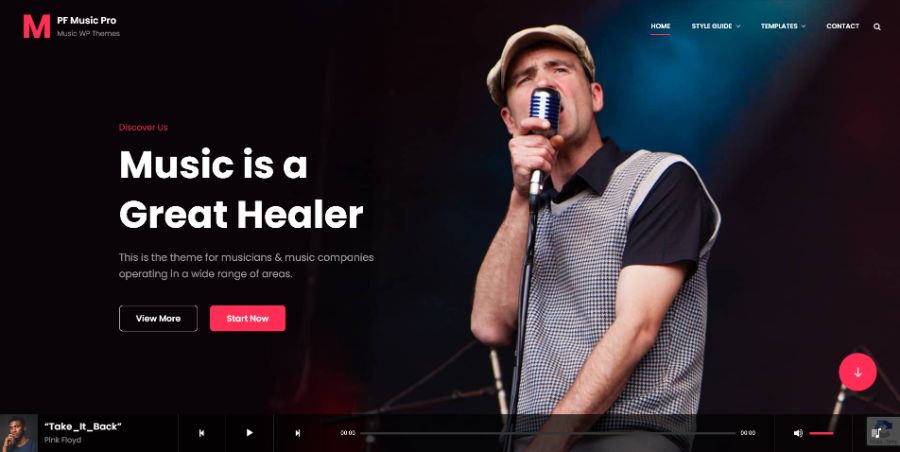 MusicFocus is a free WordPress theme designed specifically for musicians and bands with an intuitive user interface and powerful admin panel. It has everything you need to create your website quickly and easily without any coding knowledge required. No matter what type of music site you want to build – professional or hobbyist – this theme has got you covered.
Music Freak WordPress Theme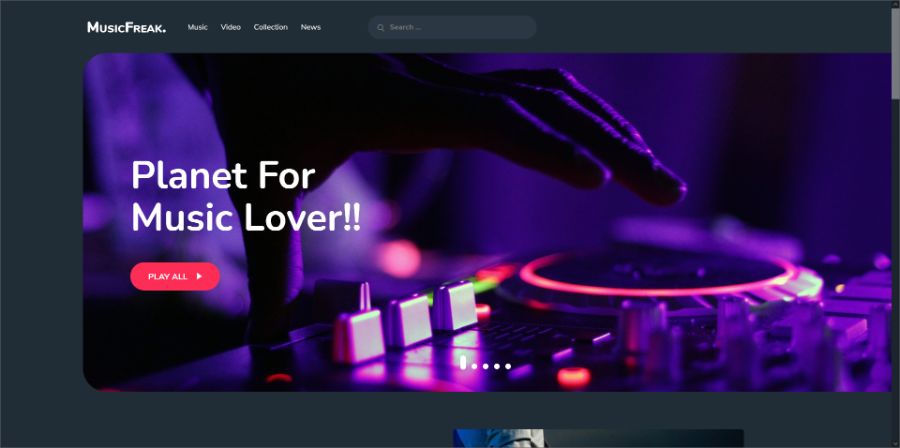 The Music Freak WordPress Theme is a complete solution for promoting your music online. It's fully mobile responsive so it looks great on any device – desktop computer, laptop, or smartphone/tablet. All pages are built using the Bootstrap 3 framework which makes it easy to customize every element of the theme including colors & fonts. Plus, you can use this theme with the Elementor Page Builder plugin that allows anyone to design professional-looking page layouts.
Loud Music WordPress Theme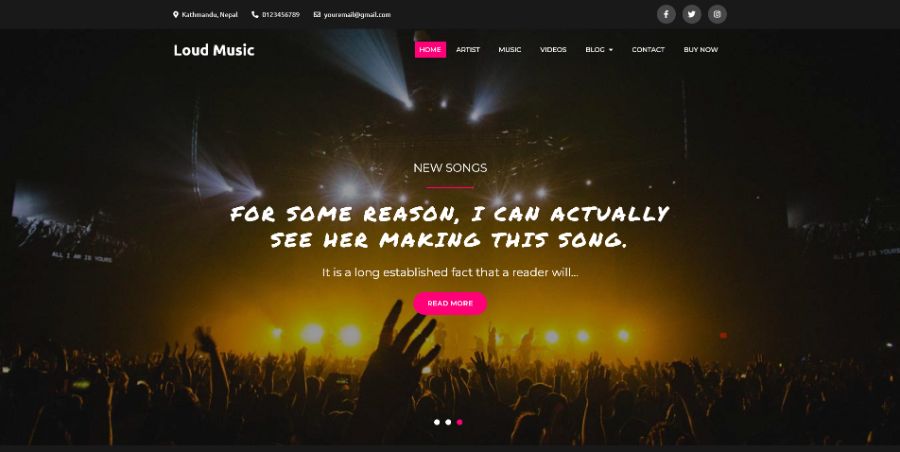 With the Loud Music WP theme for musicians, creating an awesome website about your band or project has never been easier. Just install the theme and start adding content from the demo site – it's as simple as that – and you'll have your band's online presence up and running in no time flat.
Mero Music Free WordPress Theme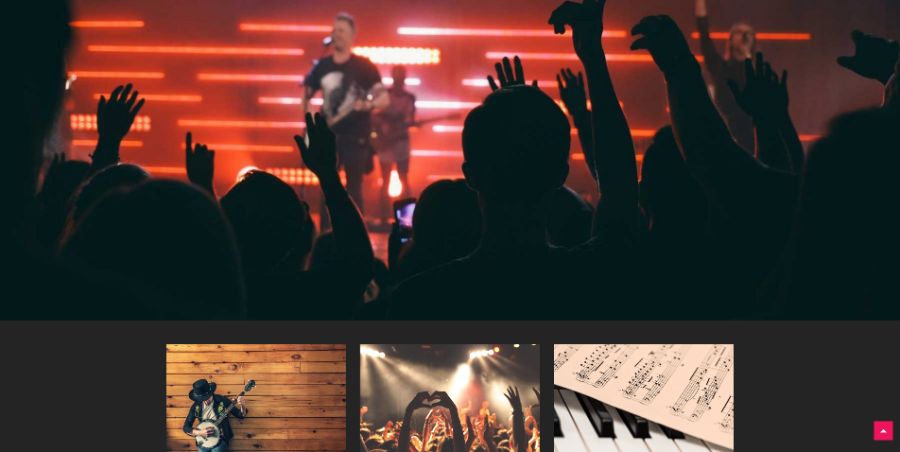 Mero Music is an excellent free music WordPress theme with tons of features and options that will help you build the perfect site for promoting your music career. It has powerful customization options including color schemes, header layout choices, custom widgets, and more.
This professional-grade blog theme comes with all the tools you need to create an awesome website for yourself or any other musical artist or band out there. With its clean design, easy installation/configuration process – Mero Music is one of the best free music WordPress themes available today.
JetBlack Music Free WordPress Theme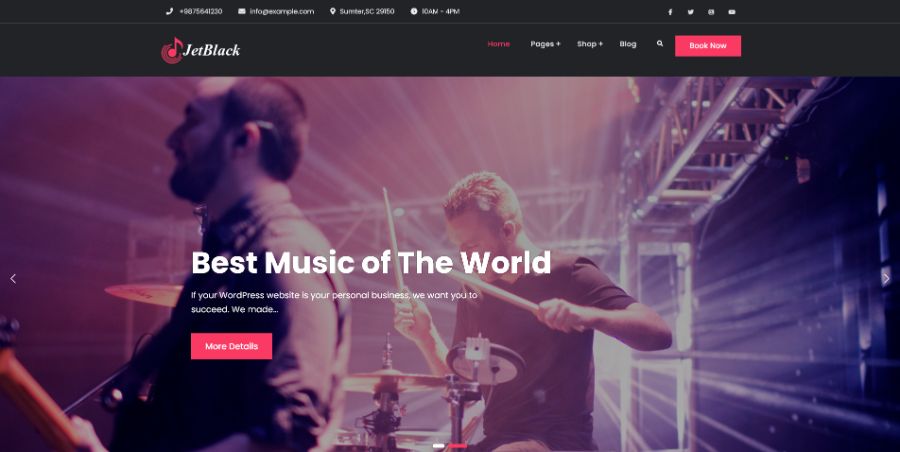 The JetBlack Music WordPress Theme is a free responsive musician template for musicians of all kinds, including solo artists, bands, DJs, etc., as well as non-musician sites like record labels or media outlets. To make things even easier you can also use this theme with other plugins that enable automatic album art embedding from LastFm and SoundCloud integration so your users can listen directly within your site.
Signify Music Dark Free WordPress Theme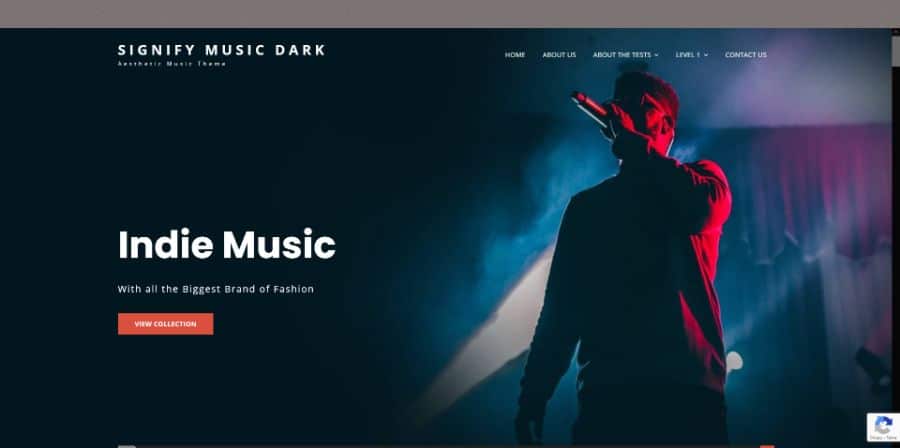 Signify Music is the perfect solution for musicians who are serious about creating an online presence. This free WordPress theme gives you all the tools you need to create a stunning website that will help launch your career and bring new fans into your life.
Signify Music Dark is easy to use, beautiful on any device, and completely responsive so it looks great on any screen size or resolution. It's also packed with features like sticky playlists, featured sliders, portfolio sections, testimonials sections, and more.
Scapeshot Music Free WordPress Theme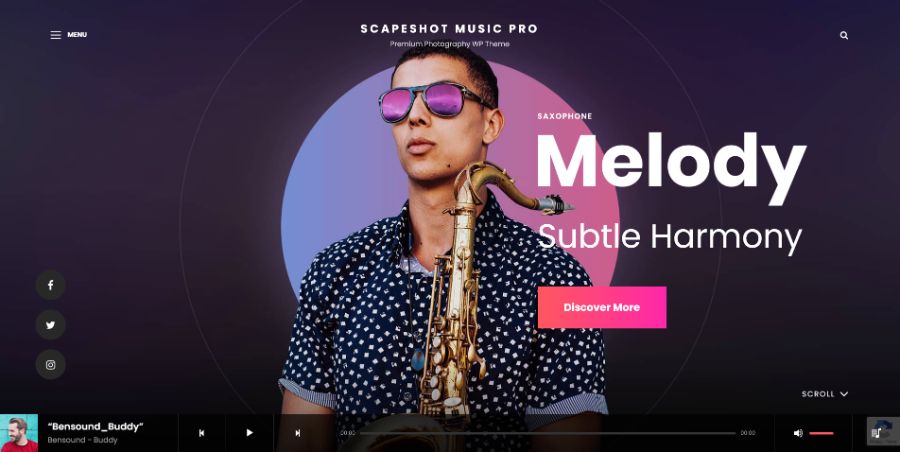 ScapeShot Music is a highly flexible, fully responsive, retina-ready, SEO-optimized music theme for WordPress that comes with all the necessary features required to create an amazing website for musicians. It also has advanced customization options so you can completely change the look and feel of your site without touching any code.
Rockaholic Free WordPress Theme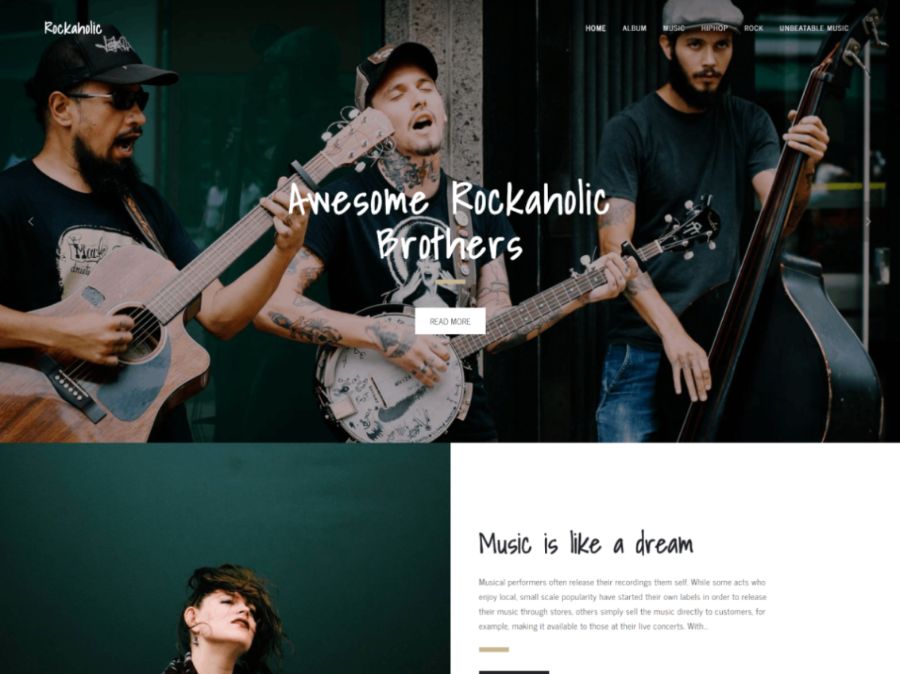 Rockaholic is super easy to set up and it has a barebones feature set that you can easily modify. It also fully supports the WordPress live customizer so that you can see how changes affect your site when you test new layouts, custom widgets, and plugins on your site.
Dark Music Free WordPress Theme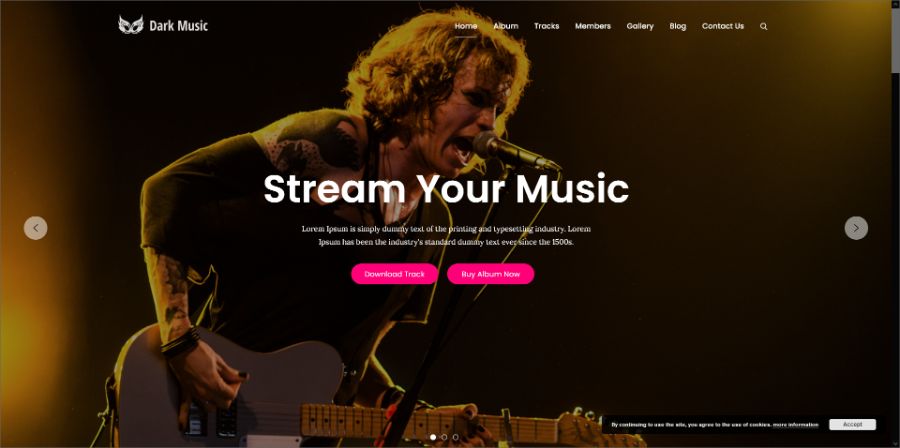 The Dark Music WordPress Theme was created for musicians by musicians. This theme will help you build an amazing website in no time at all. You can easily add pages, content sections, images, videos… everything.
With this free dark music WordPress theme, you don't have to worry about anything else except creating the best possible website for your fans and followers. And with the Dark Music Theme you can add, manage & display your playlist; showcase upcoming events; sell tickets online; promote your latest albums/singles / EP / LP releases; share news & updates with users via social media, and more.