Are you sick and tired of people stealing your content? Well, thankfully you can protect your blog posts and images with a watermark plugin. On this page, you'll find the best WordPress image watermark plugin that also offers advanced text and video content protection.
Best WordPress Image Watermark Plugin
Smart Content Protector – Pro WP Copy Protection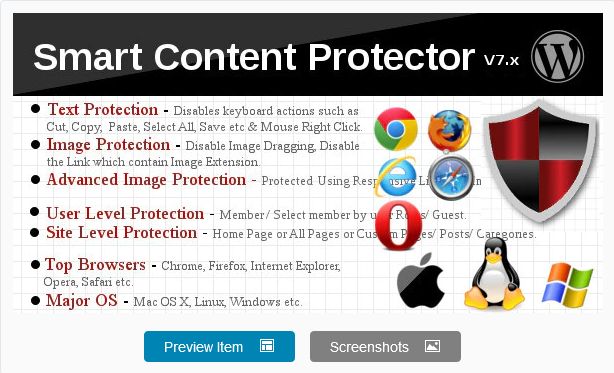 Smart Content Protector helps you prevent your text, images, videos, or any other WordPress post type from being stolen by others. Protecting your images from the moment they are posted on your website is crucial. You want to prevent people from stealing and reposting them without permission, but how?
The problem with other image protection plugins is that they don't provide a complete solution for image protection. They either have too many limitations or just aren't effective enough at preventing piracy.
The Smart Content Protector Pro WP Copy Protection plugin solves these problems by providing an advanced method of protecting all of your images using copy-protected lightbox technology, which prevents hotlinking and unauthorized saving/downloading of any content on your website.
You can choose which post types need protection and customize the settings as per your requirement for protecting them against unauthorized copying & pasting of text or image theft.
This plugin also includes multiple methods for watermarking text and image overlays over all of your uploaded photos on both the front-end and back-end so that no one can steal your images and claim them as their own.
WooCommerce Product Image Watermark Plugin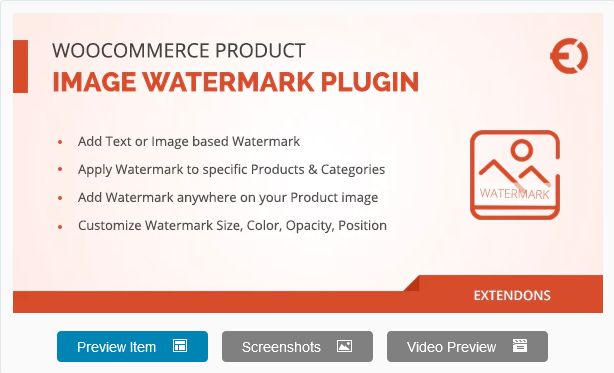 The WooCommerce Product Image Watermark Plugin allows you to easily put text or an image as a watermark on all of the product images in the shop, categories, products, and popup images. This plugin is compatible with both variable and simple products which means this plugin will work great even if you sell different types of items such as clothing, books, etc.
You can add the same or different watermarks for each item individually or group of items depending on what works best for your store configuration (e.g., apply the same watermark across all products but different watermarks across certain categories).
Easy Digital Downloads – Download Image Watermark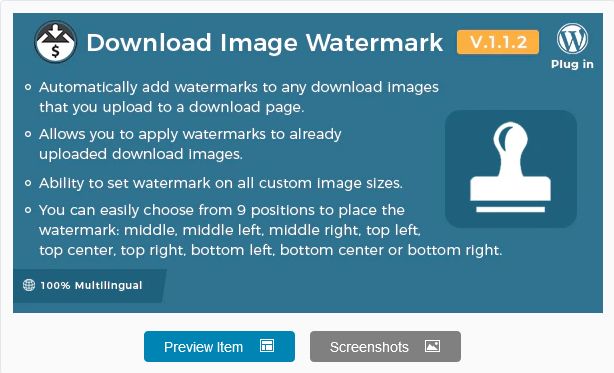 Easy Digital Downloads makes adding watermarks simple with this extension that lets you add a transparent copyright logo to any image or digital download. The plugin also lets you automatically add the copyright symbol and text of your choice onto any image before they go live on your site or blog. Plus, this plugin allows you to customize the text and position of the watermark so that it looks great on every photo.
Global Gallery – WordPress Responsive Gallery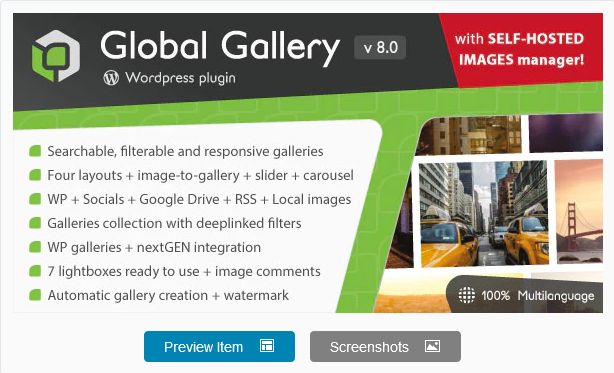 Global Gallery lets you add beautiful gallery functionality and responsive image carousels to your site so you can display images from multiple sources in one place, while also protecting them from unauthorized usage by adding custom text or logo overlays using an intuitive editor interface.
SUMO WooCommerce Product Image Watermark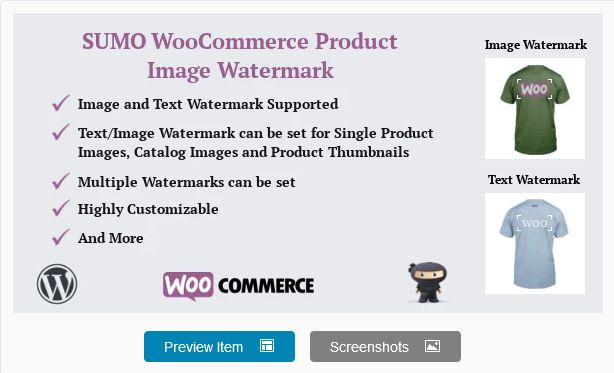 The SUMO WooCommerce Product Image Watermark adds an image watermark capability to your existing WordPress installation. It's super easy to use and supports both single and variable products. You can add text or image watermarks on any product image including full-size images, thumbnails, and individual variations of each item in bulk without touching a line of code.
Imager – Amazing Image Tool for WordPress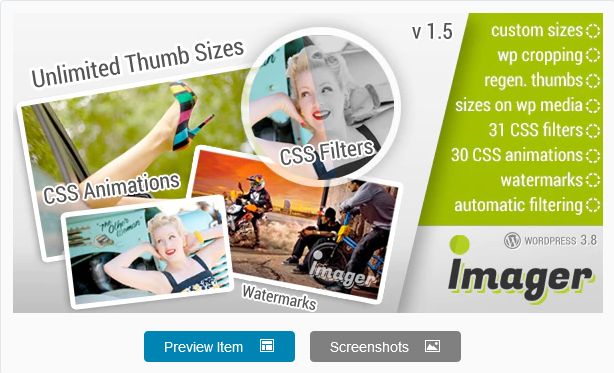 Imager lets you add all kinds of cool effects and animations to your images right from the media library. All without having to leave your WordPress dashboard. It also makes it super-easy to create new image sizes on the fly. Plus there are tons of options for adding text overlays or watermarks as well as 30 different CSS animations that will make the images on your site really pop and look amazing.
MeMeMe – The Meme Generator | WP Plugin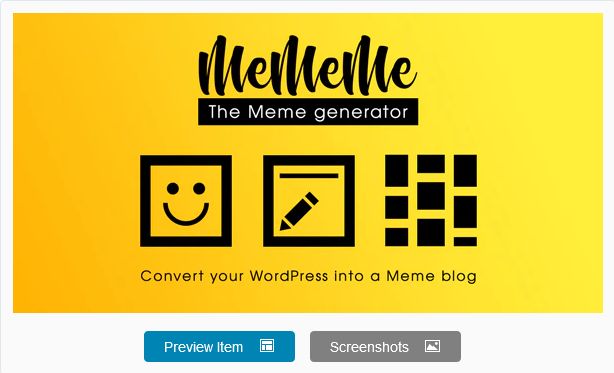 The MeMeMe WordPress Image Plugin makes it easy to create funny pictures. Just select one of the pre-made templates, then drag & drop an image into the editor box. Write some witty text over that image using the simple editing tool and you are done. Your new custom meme will appear in the preview window for approval before being published on your website. It really is that simple. Plus, this plugin lets you add watermarks to your images so when they go viral they will be attributed to your site.
WP Grid Gallery I WordPress Gallery Plugin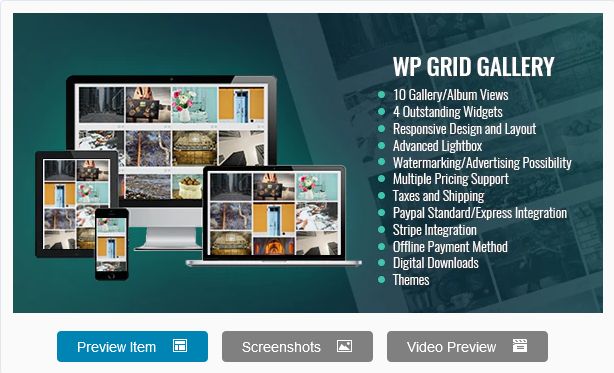 WP Grid Gallery makes it easy to create beautiful galleries using the WordPress media library. Images are automatically resized to fit the layout perfectly. And if desired they can be watermarked with text or advertisements as well as given individual links via URLs that make them trackable by Google Analytics.
How To Protect Images on a Website
The first thing you need to do to protect the images on a website is to add a copyright notice to the footer of your website. Then make sure that your website's privacy/content policy states that you will protect any photos uploaded onto your site
It's also a good idea to use watermarks when appropriate – this warns people that they are about to steal someone else's work if they take a photo off of your site without permission or credit.
If you have an active blog and still want to encourage people to share your content, create a page with instructions on how to properly attribute images taken from your site. And when anyone shares your images in their own posts or social media accounts have them include links back to your site whenever possible
What is WordPress Image Protection
Have you ever uploaded a photo and realized that it's been used somewhere else? We've all had it happen, but the good news is: there is a way to protect your images. Image protection services are designed for bloggers, website owners, and content creators who want their work protected from others using or copying their photos without permission. It also prevents people from editing your photos in ways that may not be what you originally intended.
How Does WordPress Image Protection work
Many website owners have a lot of content on their sites and want to protect it. WordPress provides a number of ways for site owners to do that, including the use of plugins. One popular plugin is Smart Content Protector which offers image protection that blocks screenshots from being taken or other images from being downloaded. It also can be used to prevent search engine crawlers from indexing images so they can't be found through searches online.
Why should I use WordPress Image Protection?
You might be wondering why you should use WordPress Image Protection. There are many reasons, but in the following section we'll go over the main benefits of using WordPress Image Protection:
Benefits of using WordPress Image Protection
The first is that WordPress Image Protection will make your site more secure because it can protect against malicious attacks and hacking attempts by securing all of the images on your website.
Second, it will help keep your site's SEO score high by preventing Google from penalizing you for duplicate content found within the image files themselves.
And third, protection is just one less thing that you'll have to worry about when running a website. So if these three points sound good to you then click here to get Smart Content Protector – Pro WP Copy Protection