Can you sell beats on Shopify? If you're a musician and want to start selling your beats online, you may be wondering if you can sell beats on Shopify is the right platform for you. In this article, we'll explore the pros and cons of using Shopify to sell your beats, and we'll help you decide whether or not it's the right option for you. Keep reading to learn more.
Can You Sell Beats on Shopify?
Yes, you can sell beats on Shopify. However, you will need to install a 3rd party app in order to do so. There are a number of great apps available that can help you manage your beat sales, including the Single – Music & Video Shopify App and the Tuneboom Shopify App. These apps will allow you to manage your inventory, track sales, and collect payments from customers.
Best Shopify Music App for Selling Beats
Single – Music & Video Shopify App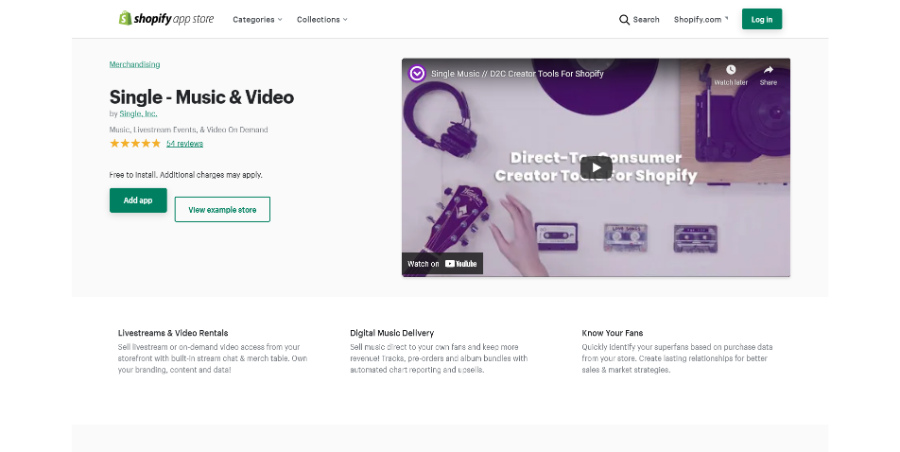 Single (View App) is the best Shopify app for selling digital music online and it lets you sell beats, singles, albums, bundles & merchandise from a Shopify store with just a few clicks. And this software automates everything so that setting up your online store becomes as easy as uploading files and adding links to Facebook posts and Instagram stories.
Plus, Single makes it easy to sell and promote bundles, and it also gives artists access to detailed analytics so they can see how their fans are reacting to each track so they can adjust their marketing accordingly.
Easy Digital Products Shopify App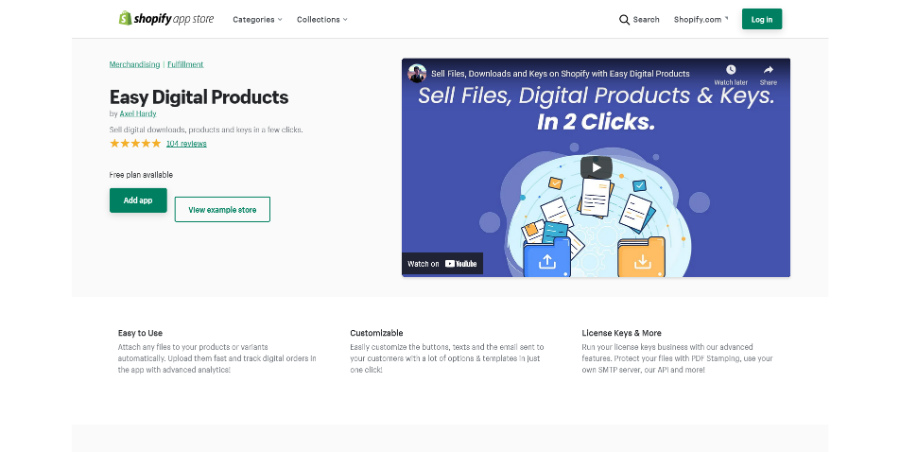 Easy Digital Products (View App) is an app that will allow you to sell your digital products on Shopify. It's easy to use and it comes with many useful features like download limits, analytics tracking, and more. And with Easy Digital Products, you'll be able to add license keys to your tracks in seconds by simply clicking on a button from the dashboard. Also, if someone purchases multiple copies of an item you can limit their downloads so they don't get unlimited access for free.
Tuneboom Shopify App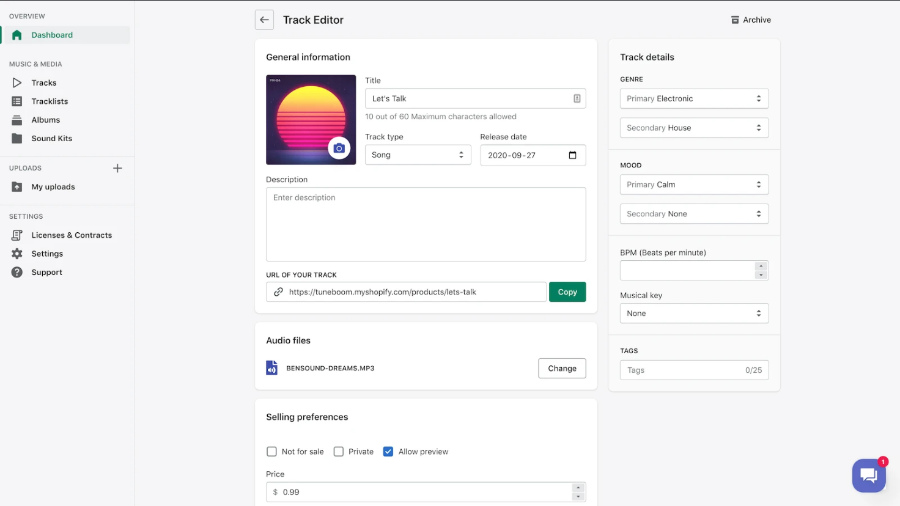 Tuneboom (View App) is one of the best ways to distribute your audio content without having to do any manual uploading or tagging. Their platform automatically handles all the heavy lifting for you by providing automated delivery upon purchase and built-in social media sharing features with their custom-made templates. Plus, all of the tracks that you sell are delivered in lossless formats (WAV/FLAC/MP3) with embedded cover art & metadata which makes it easier than ever before to sell high fidelity audio files directly on Shopify.
DrDownload Digital Downloads Shopify App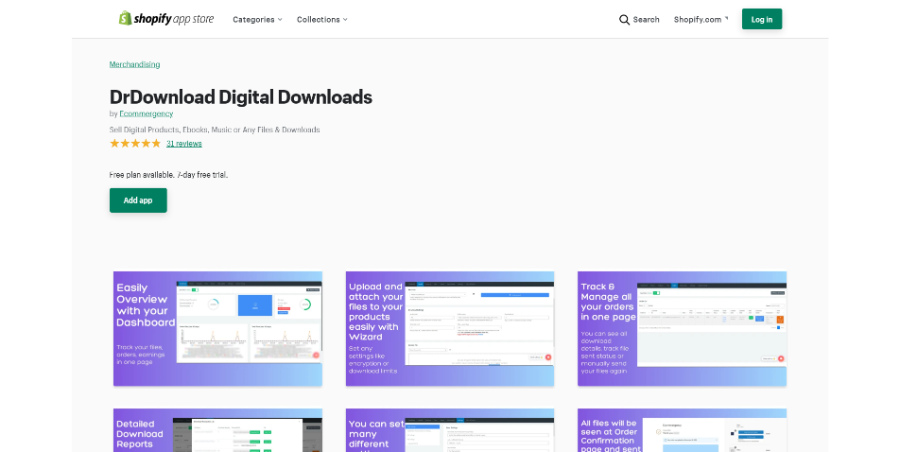 DrDownload (View App) makes it easy for you to sell digital downloads without the hassle of setting up servers or integrating with a payment processor. The DrDownload app integrates seamlessly with Shopify, allowing you to easily add any type of file (including audio files) into your store's product catalog. Once added, customers can purchase these items using their credit card or PayPal accounts.
Sky Pilot – Digital Downloads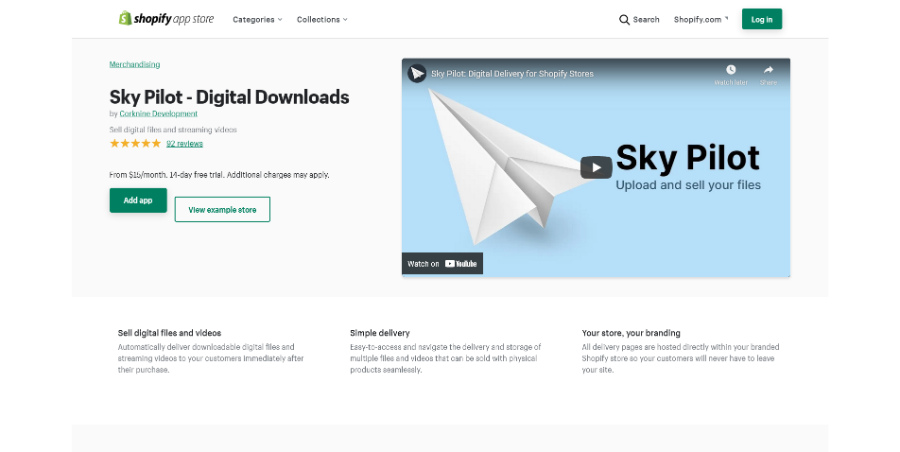 Sky Pilot (View App) makes it easy to sell videos, audio, and other digital products from your Shopify store. Plus, it's fast, secure, and doesn't require any additional steps or downloads from customers who want to buy your product.
This app helps you manage all of the details behind offering digital downloads on your store by providing an intuitive interface where you can upload files directly through the app itself. You'll also get notifications when someone attempts to download a file illegally or too many times so that you can take action quickly.
How To Sell Beats on Shopify
If you're a musician looking to sell your beats online, Shopify is a great platform to use. Below, we'll show you how to create a beats store on Shopify and populate it with your beats. We'll also cover some tips on how to promote your store and attract buyers.
How to Create a Beats Store on Shopify
Choose a name for your store
Create an account on Shopify
Choose the theme you want to use
Customize your homepage with images and features that are relevant to what you're selling
Add pages to your website, such as FAQs or contact information
Add merch to your storefront so people can buy other products from you too.
How To Price Your Beats for Sale on Shopify
Find out what others are selling their beats for
Set a price that is fair to you and what buyers expect
Make it clear on your page how much the buyer will be paying, including any fees they may have to pay (e.g., tax)
How To Market Your Beats for Sale on Shopify
There are a few different ways to market your beats for sale on Shopify. You can use social media platforms like Instagram and Twitter to reach a wider audience, or you can optimize your shop's SEO and blog content for better visibility in search engines, and you can work with influencers to promote your beats to their followers.
You can also use paid advertising platforms like Google AdWords and Facebook Ads to target potential customers.
Tips for success when selling beats on Shopify:
When making a beat, make sure it's original and sounds good
Make sure your beats are high quality – don't sell anything that doesn't sound good
Offer discounts to people who buy multiple tracks at once
Upload some great pictures and cover art with catchy descriptions about them
Use keywords on your product pages so that people can find your music on search engines
Is Selling Beats Worth It?
It can be tough to make a living as a musician. You might be asking yourself, is selling beats worth it? It's definitely possible to make a good income selling beats, but there are some things you need to keep in mind.
Below, we'll go over some of the pros and cons of selling beats online.
Selling beats is a great way to make money
One advantage of this business model is that there are no upfront costs; everything can be done online with minimal start-up capital
The downside of selling beats is that it takes time and effort to create them
Plus, you don't get paid until you've sold the beat, but if you're not successful in selling it then there's no income at all
Another downside of selling your own music is that people may steal it and use it without your permission
Conclusion
Shopify (Click Here for a 14-Day Free Trial) is a powerful eCommerce platform that makes it easy to create an online store and sell beats online. With Shopify, you can upload your beats, set your prices, and start marketing them to buyers all over the world.
Plus, with Shopify's built-in payment processing system, you can rest assured that you'll get paid quickly and easily for every track you sell. So if you're looking to start selling your beats online, Shopify is the perfect platform.